While advertising can help sell a product, the wrong advertising can work against a product. For example, back in the mid-1980's, actress Whoopi Goldberg made a series of light mysteries. Unfortunately, they were advertised as broad comedies. The result was that fans of light mystery didn't go because they thought they would see broad comedies, and fans of broad comedies who went were disappointed. Enchanted April, currently being presented by the Bergen County Players, is a charming little play. The description on their website, however, may attract people who would be disappointed, while keeping away people who would truly enjoy the play. So, if you want to see which group you are in, keep reading.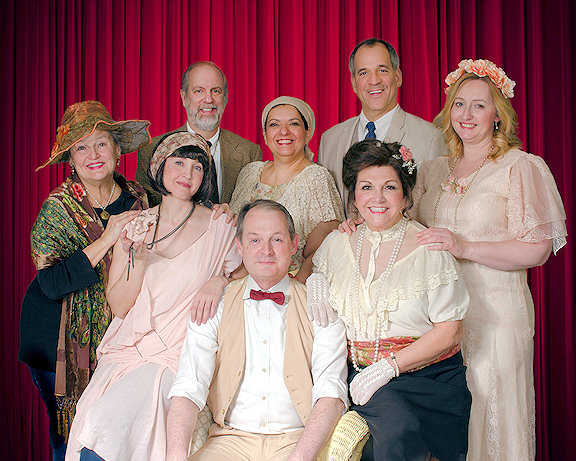 Photo by Alan Zenreich
For example, when it says, "Think 'Real Housewives of Britain Spending the Summer in an Italian Villa'. OK, maybe not." the likely expectation is the kind of over-the-top dramatics one finds in reality shows. But that is not at all what kind of play this is. It's a play about four women looking to "translate" themselves, but who, instead, each find a piece of themselves that was missing, as do the men around them. The production of the play, written in 2003 by Matthew Barber from a 1922 novel by Elizabeth von Arnim, borrows a motif from The Wizard of Oz, starting out grey and dreary, then exploding into color, with the characters needing to go through a journey only to find out that they always had what they were looking for (but would not have found otherwise).
The year is 1922, and the place is London. This is important, as, although the first World War ended a bit under 4 years previously, its shadow is still hanging over Britain. There are also the beginnings of a societal rift, with the "moderns", rebelling against traditional society, arising. And we have two unhappy women who see this clash of values in their own homes.
There is Lottie Wilton, played by Ruth Morley, depicting the character as something akin to a nature spirit trapped in the body of a housewife stuck in a "very proper" marriage; she loves her husband, but she wants some variety, perhaps excitement and certainly, well, enchantment in her life. And we have Rose Arnott, portrayed by Mariann Felice making her Bergen County Players debut, as a woman who has experienced great sadness and a feels a growing distance between herself and her husband. The two women don't really know each other, but they are reading the same advertisement about a castle in Italy available for rental for the month of April, promising, as we are reminded often, a month of "wisteria and sunshine." Lottie feels that going there could be a positive transformative experience and Rose, although strongly tempted, is so afraid of disappointment that she reluctant to even try. But once Lottie gets started, it is almost impossible to stop her. Not even insufficient funds can do more than slow her down, as she gets Rose to help her recruit two additional traveling companions, Mrs. Graves (played by Rachel Gordon, who brings believability to a character who could all too easily come off as a caricature), a demanding grand old dame who is living in the past, and the young Lady Caroline Bramble (Cassie Romano in her Bergen County Players debut, we hope to see a lot more of her) a "modern" and a media (1920's style) figure, who secretly yearns for something more traditional. The two main women spend the first act in cold, rainy England, trying to put together the necessary money, recruit the others, and, importantly in 1922 England, get permission from their husbands. We also get to meet the women's husbands. Lotty's husband, with the unfortunate name of Mellersh Wilton, is a lawyer who is stereotypically set in his ways, and who doesn't even notice that the love seems to be gone from his relationship with his wife. Rose's husband, Frederick Arnott (played with a bit of caddish flair by James Lugo) started out as a serious writer, but has found success and social acclaim writing more bawdy works, using the pen name of Florian Ayers. He wants Rose to join him on the social circuit, but his wife finds his current works to be morally repugnant. Still he, like Mellersh, fails to see how unhappy she truly is.
Rounding out the play are two more characters. Antony Wilding (played by Alan Morley), the owner of the aptly named San Salvatore castle, is a kindly and charming artist, but still rudderless and not quite over his war experiences. Finally, introduced in the second act, is Costanza (broadly played by Helen Boyadjian), the housekeeper at San Salvatore who, although she only speaks Italian, is easily understood by the audience as she tries to adapt to the very different and often difficult guests at the castle.
The first act is mostly setup; it is in the second act, when the play breaks out in living color, that Enchanted April truly comes to life. As promised in the description, there is some conflict between the women (and do not worry; in spite of the description, no tables are overturned in this production), but Lotty's unstoppable (and often comically overbearing) optimism keeps everybody together until the promised enchantment of San Salvatore works its effects, especially when the men show up.
Iris Weinhouse's direction is excellent, managing to consistently keep the actors on the right side of the line between believability and lampoon. Gerard Bourcier, in his first set design for Bergen County Players, does a fine job presenting the contrast between England and Italy, and Adam Farnam, who constructed the set for last month's Leading Ladies, continues his superb work for the Players, particularly with San Salvatore. And certainly of note are Rosa DeVincenzo and Lauren Zenreich providing set decor, and, along with lighting director Ray Poquette, provides the audience with plenty of, as promised, wisteria and sunshine.
If you go to this play, you are not going to be hit with catfighting women, strong political messages, or a "chick flick" on stage. What you will get is a sweet play about how 7 people who have lost themselves find themselves, in an enchanted April in Italy. It's a great play to see with someone you love.
If you are thinking about bringing your children, do note that there is a scene with brief partial male nudity, played to broad comic effect. There is an appropriate apology in advance, in the program.
TICKET AND SCHEDULE INFORMATION
All performances for Enchanted April take place at The Little Firehouse Theatre at 298 Kinderkamack Road in Oradell, home to the Bergen County Players since 1949. Performances run March 19 to April 16, 2016 with show times on Fridays and Saturdays at 8pm, and Sundays at 2pm.
Tickets for Enchanted April are $21 for Friday/Saturday performances and $17 for Sunday matinees, and can be purchased online at www.bcplayers.org, by calling 201-261-4200 or by visiting the box office at 298 Kinderkamack Road in Oradell during regular box office hours. Visa, Master Card, and American Express are accepted.
BCP's popular Questions & Artists talkback session will be held following the performance on Friday, April 1, 2016. The session is included in the cost of the ticket to that performance.
Those interested in Group Sales of 20 or more tickets can email

This email address is being protected from spambots. You need JavaScript enabled to view it.

or call the main number and press #6.
Row K, Seats #1 and #2 are held to accommodate people with disabilities. They can be purchased by calling the box office at 201-261-4200. These seats will be released for public sale two weeks prior to performance.
Advance discount tickets for students age 25 and under with proper ID are available for $14 by phone or walk-up only, and student rush seats can be purchased for $5 (cash only) starting 30 minutes before curtain at every performance, pending seat availability. There is a limit of one rush ticket per student.
Parking is free at the Park Avenue municipal lot, across the street, one-half block north of the theater.
Calendar Listing: ENCHANTED APRIL OPENS SATURDAY, MARCH 19 THROUGH SATURDAY, APRIL 16. PERFORMANCES: Fridays and Saturdays at 8pm; Sundays at 2pm LITTLE FIREHOUSE THEATRE 298 Kinderkamack Road., Oradell, NJ. Free parking at the lot off Park Avenue one-half block north of theater. Tickets range from $17 - $21. For tickets, please call 201-261-4200 or buy online at www.bcplayers.org. Student and group discounts are available.