Sigmund Freud is reputed to have said, "Sometimes a cigar is just a cigar." Taking the contrapositive, sometimes a cigar is not just a cigar. And what it is may be obvious to everybody but the person smoking it. In Arthur Miller's play, A View From The Bridge, the figurative becomes literal, as we witness a working class version of a Greek tragedy, with its protagonist sinking into the madness of his own hubris. And the Bergen County Players production, produced by Rhea Smith and directed by Jacqueline McElroy-Poquette, manages to, as they promise, take the characters from the 1950's and bring them to life in 2016, aided by a talented cast and crew.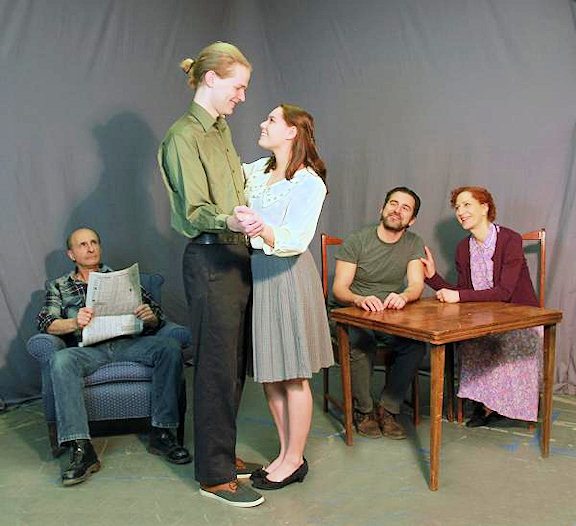 The year is 1950-something. The place is the Red Hook section of Brooklyn, near the Brooklyn Bridge, the home to the largely Sicilian dockworkers, who culturally consider the government to be their enemies, and organized crime to be a necessary evil. And part of the community is Eddie Carbone, a longshoreman, his wife Beatrice, and Beatrice's 17 year old niece Catherine, whom they have raised as their own daughter. Eddie initially seems like a solid and caring family man, if a bit over-protective of his niece, uncomfortable with her moving into adulthood. And he is proud of the level of control he has over his life, a pride which pushes him on a downslide into obsession and a madness that cannot come to a good end.
The trigger is the arrival of Beatrice's cousins, Marco and Rodolpho, who have come to the United States to find the work not available in Italy, but doing so without going through the legal steps required by the law. Eddie is far more pleased than inconvenienced by the fact that he can host them, although, when they arrive, he appears a little too haughty. But the situation almost immediately starts to disintegrate, as Rodolpho and Catherine form a mutual romantic interest. Eddie suspects that the blond Rodolpho, who is skilled at sewing, singing, and cooking, is only interested in Catherine so that he can become a U.S. citizen and might even be gay; the play leaves open the possibility that he might be right. But it is ultimately irrelevant, as his concern over Catherine's well-being moves to possessiveness, jealousy, and worse. As the play moves forward, he becomes more and more aware that the only way he can stop the romance is to do the unthinkable: turn Rodolpho in to the immigration authorities. And, as he makes clear from the beginning, such an act would, at best, cause him to be completely ostracized by the community, and, at worst, result in his disappearance, never to be seen again.
Acting as a one man Greek Chorus is Alfieri, the local Italian-born lawyer, both an insider to the community due to his background, but an outsider as well, due to a profession which brings him into continual contact with the distrusted government. He breaks the fourth wall frequently; it might even be said (as others have observed) that he is the "bridge" referred to in the title. Actor Ted Odell effectively shows the internal conflict as Alfieri helplessly watches, trying his best to head off the tragedy that is coming, but knowing he is unable to do so.
The Bergen County Players' production focuses on the continued relevancy of many of the issues in the play; for example, "helicopter" parents may wince a bit if they see a bit of themselves in Eddie. And every performance, from the leads down to a few background characters, is believable and strong. Andrew Lionetti is thoroughly convincing as Eddie, with his steady decline starting just as hints, moving more and more to the surface until he finally forced to look in a mirror to see what is obvious to those around him, but has refused to recognize in himself. Lionetti doubles as fight choreographer, and clearly does an expert job in that task, as well, being at the center of the fights that occur onstage. Sarah Mason, making her Bergen County Players debut as Catherine, brings to the audience a girl who is becoming a woman in spite of Eddie's best efforts to prevent it. A special mention must go to Anthony Ventola playing the part of Marco, Rodolpho's brother, who conveys far more in his body language and bearing than in his words, conflicted between his host's increasing hostility towards his brother and his need for his host's protection. Meg Renton, as Eddie's wife, Beatrice, shows a woman walking a tightrope between love and loyalty to her husband and realization that she is losing him to his obsession. Another Bergen County Players newcomer, Thomas Hoesly, plays Rodolpho as an always cheerful romantic dreamer, conflicted between his desire to marry Catherine and become and American and his obvious need to avoid causing conflict.
On the technical side, the set design and decor of the Bergen County Players never ceases to impress. Michael Smith is responsible for the set design and construction; he keeps up with the "used universe" look, and, with aid from producer Rhea Smith doubling in charge of set decor, lighting designer Ray Poquette with lighting operators Sandra Conklin and Marisa Dolkart, allows the action to effortlessly shift from the streets to the Carbone apartment and Afieri's law office.
A View From The Bridge is a powerful play, and not at all suitable for children (although it would be excellent fodder for discussion with mature teens). It is an intense and thought-provoking production, and for those who see it, it will stay with them for a long, long time.
TICKET AND SCHEDULE INFORMATION
All performances for A View From the Bridge take place at The Little Firehouse Theatre at 298 Kinderkamack Road in Oradell, home to the Bergen County Players since 1949. Performances run April 30 to May 22, 2016 with show times on Fridays and Saturdays at 8pm, and Sundays at 2pm. There is no performance on Mother's Day, May 8.
Tickets for A View From the Bridge are $21 for Friday/Saturday performances and $17 for Sunday matinees, and can be purchased online at www.bcplayers.org, by calling 201-261-4200 or by visiting the box office at 298 Kinderkamack Road in Oradell during regular box office hours. Visa, Master Card, and American Express are accepted.
BCP's popular Questions & Artists talkback session will be held following the performance on Friday, May 6, 2016. The session is included in the cost of the ticket to that performance.
Those interested in Group Sales of 20 or more tickets can email

This email address is being protected from spambots. You need JavaScript enabled to view it.

or call the main number and press #6.
Row K, Seats #1 and #2 are held to accommodate people with disabilities. They can be purchased by calling the box office at 201-261-4200. These seats will be released for public sale two weeks prior to performance.
Advance discount tickets for students age 25 and under with proper ID are available for $14 by phone or walk-up only, and student rush seats can be purchased for $5 (cash only) starting 30 minutes before curtain at every performance, pending seat availability. There is a limit of one rush ticket per student.
Parking is free at the Park Avenue municipal lot, across the street, one-half block north of the theater.