The theater can do many things. It can take you to different places. It can provoke deep thought. Or, sometimes, it can just provide a night of total silliness. And if the last is what you are looking for, then the Bergen County Players production of Ken Ludwig's Leading Ladies will satisfy, in spades.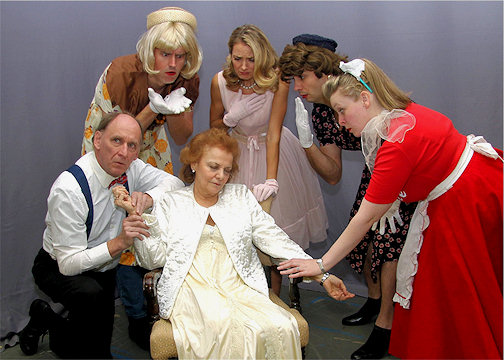 If you are looking for logic, don't look too deeply into this farce, which has been frequently described as Some Like It Hot meets Twelfth Night, stealing liberally and shamelessly from both works. But that is part of the whole theme of the play; stealing liberally and shamelessly. The year is 1958, the place is rural Pennsylvania, and we find two British Shakespearean actors on their very last legs, playing the Lodge circuit to audiences far more interested in the buffets than classic theater (not that their performance is particularly good). But an opportunity presents itself; a wealthy woman, on the verge of dying, is looking for her sister's children, Max and Steve, who have been living in England, so she can leave them shares of her fortune. So the actors decide to impersonate the two heirs; finding out that Max and Steve are not nephews, but nieces only slows them down a little, as they retrieve a couple of women's costumes from their trunk.
And that brings us to the dowager's mansion; with a $3 million inheritance at stake ($25 million in 2016 dollars), the "nieces"have strong motivation. But they find that there are stronger motivations than money, when one of the actors makes the mistake of falling in love with the woman's young, attractive and bright 3rd niece, who lives with her. We are drawn into a series of ever-escalating improbable events, and whenever logic and humor get in each other's way, logic takes a step back to let the humor fly.
Filipe Valente, in the role of Leo/Maxine, is the scheming leader of the duo, continually encouraging his reluctant partner Jack/Stephanie, played by Ian Murphy in his Bergen County Players debut. Quite appropriately in a play that borrows liberally from other farces, Valente struts around the stage like a cross between Tim Curry and Mick Jagger, while Murphy channels the deadpan comedic skills of John Cleese and Rowan Atkinson in his performance, both to great comic effect.
Andrew Whitney creates a notable performance as the Reverend Duncan Wooley, who vacillates between his strict Protestant beliefs and his desire to become a wealthy philanthropist, just barely keeping from stepping over the line into hypocrisy. Brittany Haydock, also making her first appearance on the stage of the Little Firehouse Theater, plays the good-hearted Meg, who finds the prospect of having two cousins more than worth losing two thirds of her inheritance, and winning Leo's heart in the process.
Rounding out the cast is James Lesko playing the well-meaning but not entirely competent Doctor Myers, who loves to tweak Rev. Wooley; watch out for Lesko's talent for making any part he plays seem effortless or you may not fully appreciate his superb comic timing. Celeste M. Fasone, a veteran actress also joining the Players for the first time, plays Aunt Florence, a woman who may or may not be near death, but has a lot more on the ball than it seems. Katie Lupfer plays Audrey, an educated ditz frequently on roller skates (remember the part about logic vs. humor?), who is Florence's aide and Meg's best friend. Finally, Daniel Reid plays Doctor Meyers' son, Butch, a role whose main purpose is to make the audience laugh (a job at which he more than succeeds).
The play moves quickly, the company not missing a beat. There are not one but two choreographers (Dave Arts for the stage combat and Ray Yucis for the dance), rather impressive in a non-musical, but by the time the final bows take place, you will have seen that they have done their job masterfully. This is necessary, because if the play moves too slowly, the massive logical flaws would be exposed; director Lynne Lupfer keeps the play moving apace, so that the audience is too busy laughing to notice.
As is the habit of the Bergen County Players, the set design makes the small stage of the Little Firehouse Theater seem much larger; set designer Adam Farnan (another newcomer) joins a long list of those with the talent to extract the full advantage of every square inch of space.
The play is suitable for the whole family. If you are looking for something thought-provoking, go elsewhere. But if you are looking for an evening of fun, then see this play.
Additional Information:
All performances for Leading Ladies take place at The Little Firehouse Theatre at 298 Kinderkamack Road in Oradell, home to the Bergen County Players since 1949. Performance times are Fridays and Saturdays at 8pm, and Sundays at 2pm.
Tickets for Leading Ladies are $21 for Friday/Saturday performances and $17 for Sunday matinees, and can be purchased online at www.bcplayers.org, by calling 201-261-4200 or by visiting the box office at 298 Kinderkamack Road in Oradell during regular box office hours. Visa, Master Card, and American Express are accepted.
Leading Ladies Valentine's Day Weekend Buy One/Get One Free offer is only good for performances on Saturday, February 13th at 8pm and Sunday, February 14th at 2pm. The Promotion Code is BCPVALENTINE, which can be entered during an online purchase or by mentioning it during a phone order. The offer is good for any seat in the house. Limit ten tickets per customer. Does not apply to previously purchased tickets. No refunds or exchanges.
BCP's popular Questions & Artists talkback session will be held following the performance on Friday, February 19th. The session is included in the cost of the ticket to that performance.
Those interested in Group Sales of 20 or more tickets can email

This email address is being protected from spambots. You need JavaScript enabled to view it.

or call the main number and press #6.
Row K, Seats #1 and #2 are held to accommodate people with disabilities. They can be purchased by calling the box office at 201-261-4200. These seats will be released for public sale one week prior to performance.
Advance discount tickets for students age 25 and under with proper ID are available for $14 by phone or walk-up only, and student rush seats can be purchased for $5 (cash only) starting 30 minutes before curtain at every performance, pending seat availability. There is a limit of one rush ticket per student.
Parking is free at the Park Avenue municipal lot, across the street, one-half block north of the theater.
During the 15 minute intermission, Look for a wonderful exhibit of the fantasy art downstairs by illustrator/artist Lissanne Lake.