Can you succeed with hard work alone? How important is luck? And when your very survival is put up against staying true to yourself, how far will you go? With discussions about "privilege" of various forms becoming increasingly common, the message in Good People, currently being performed by the Bergen County Players at the Little Firehouse Theater, that question is key throughout. And, for good measure, playwright David Lindsay-Abaire throws in another factor: How important is it to be "good people",  someone who is honorable, true to one's self and culture, and on whom you can count.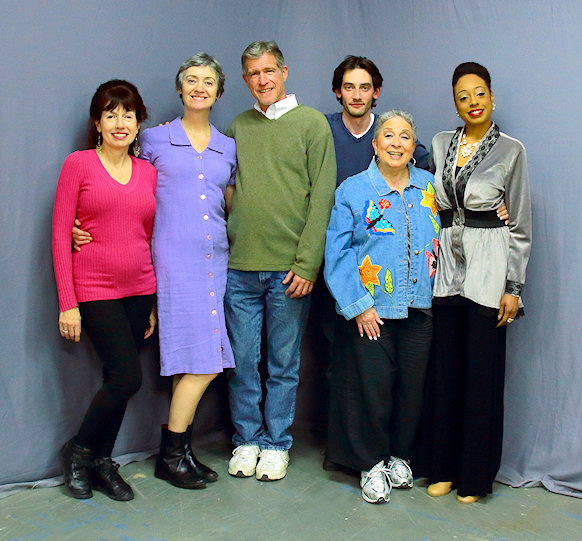 The play opens with Margie Walsh (played by Paula O'Brien, who does a wonderful job at capturing the delicate nuances within the character) being fired from her job as a cashier at a dollar store in a the poor high crime, working-class, mostly Irish community of South Boston, whose inhabitants consider themselves to be "Southies". Stevie, the manager (portrayed by Paul J. Reitnauer III as someone who tries to be "good people" while trying to work his way upwards through the community) is the son of an old friend of hers, and is clearly upset at having to fire her, but she is unreliable in a job where reliability is the major job requirement.
Her best friend, Jean (played with a proper mix of cheerful acerbity by Jeanmarie Garver-Gaydos), who is always happy to point out the worst in everybody, but so nicely that nobody seems to mind, says that Margie's problems are because she is too nice. And it is true that Margie lacks the killer instinct; she can come close, but when push comes to shove, she always does what she believes to be the right thing. And, in the impoverished world of South Boston, doing the right thing can easily have her living on the street, along with her severely retarded adult daughter, Joyce.
Her other best friend, and landlady, Dottie (portrayed by Michele Blum as someone who does not realize how obvious she is to others), always looking for a way to make an extra buck, is burdened with a ne'er-do-well son of her own. While she wants to help Margie, if Margie can't pay the rent, she will have to give Margie's apartment to her son. But these are all "good people," and in spite of their own problems, are willing to help each other out as much as they can.
Which is why the news that Mike, a former friend (and, for one summer, Margie's boyfriend) who managed to move on from the neighborhood and become a successful physician (and actor Mic McCormack shows, as well as tells, the mix of the Southie background and Yuppie veneer that Mike has become) has moved back to Boston; perhaps he can provide some sort of employment for Margie. When Margie manages to visit Mike (who may or may not have been actively avoiding her), he walks a tightrope between cutting himself off from his roots, while simultaneously wanting remain true to them. Margie guilts him into inviting her to his upcoming birthday party, where she hopes that one of the attendees might have employment for her. Her friends try to convince her to tell Mike that Joyce is his daughter and not her ex-husband's, but Margie does not want to be dishonorable. Although she is told that the party is canceled, she shows up anyway, assuming that she has been "disinvited." While the party has in fact been canceled, Mike's yuppie African-American wife, Kate (with Nadiya Braham, another actor who has to perform a character balancing act, showing Kate as clearly trying to what is right when the right path is not entirely clear) wants Margie to stay. She has never met one of Mike's fellow Southie friends, and she wants to know how true the stories he tells are. And it is in this scene that the play gets into its meat; both Margie and Mike have worked hard all their lives, but Mike has been a major success, and Margie is on the verge of living on the street. Was it because Margie didn't work hard enough, or was Mike just lucky? Or was it some combination of the two?
A final scene, at Bingo in the local church, the main recreation that most of the characters have available to them (with Edward Gross providing the voice of the priest), brings a satisfying, albeit temporary, conclusion to the events. And we learn that, good people or not, every character has been true to him or herself.
The play doesn't provide many surprises; it really doesn't need to. Anything we learn is unfolded slowly and carefully, as the characters are revealed to us. Some are just what they seem to be on the surface, while others reveal a depth that is not immediately obvious. But it is all fascinating.
The production is seamless, with the kind of top-level performances that the Bergen County Players habitually spoils us with coming from all the actors. Producer Rhea Smith and Director Peter Colletto deserve to be congratulated. And Michael Smith deserves special credit for his set design; it is not a spoiler to reveal that, uncharacteristically for the theater, the stage crew gets a round of applause. And it is well deserved.
This play is perfect for people who want something that they will not just enjoy while seeing it, but will talk about long after the curtain has been closed.
TICKET AND SCHEDULE INFORMATION
"Good People" contains mature subject matter and language 
All performances for "Good People" take place at The Little Firehouse Theatre at 298 Kinderkamack Road in Oradell, home to the Bergen County Players since 1949. Performance times are Fridays and Saturdays at 8 pm, and Sundays at 2 pm.
Tickets for "Good People" are $21 for all evening performances, $17 for matinees and can be purchased online at www.bcplayers.org, by calling 201-261-4200 or by visiting the box office at 298 Kinderkamack Road in Oradell during regular box office hours. Visa, Master Card, and American Express are accepted.
Those interested in Group Sales of 20 or more tickets can email

This email address is being protected from spambots. You need JavaScript enabled to view it.

or call the main number and press #6.
As it has for the past few seasons, BCP continues to offer a "Questions & Artists" (Q&A) discussion following select performances. "Good People" Q&A will take place immediately following the Friday,
January 15, performance. Admission is included in the cost of the ticket.
Advance discount tickets for students age 25 and under with proper ID are available for $14 by phone or walk-up only, and student rush seats can be purchased for $5 (cash only) starting 30 minutes before
the curtain at every performance, pending seat availability. There is a limit of one rush ticket per student.
Parking is free at the Park Avenue municipal lot, across the street, one-half block north of the theatre.