Some consider the start of the holiday season to be the day after Thanksgiving. And stores are increasingly trying to push the start of the holiday season to December 26th. But in the MidBergen Communities area, we know that the start of the holiday season is St. Anthony's International Festival, at St. Anthony's Pan-Orthodox Church in Bergenfield, this year being held November 5th, 6th and 7th between 10AM and 10PM. Even with the flea market moved to May, it is still a large and festive occasion.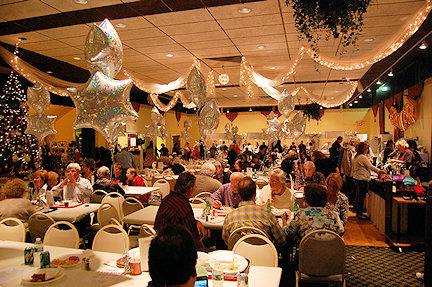 As we enter, we see the main hall decorated for Christmas, with booths for Christmas decor, jewelry, gifts, clothing, and, in the back, food. Speaking of which...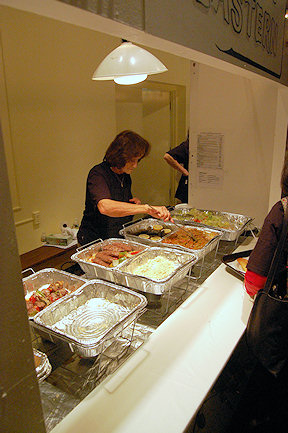 What food it is. This is just the Middle Eastern table (and only part of that). The many nationalities of the various Orthodox Churches that make up the St. Anthony's community are represented, including Syria, Lebanon, Egypt, Greece, Russia, Ukraine, Georgia, Serbia, Romania. And there are sections with delicacies like stuffed cabbage and Chicken Kiev from Eastern Europe, Pastitsio and Moussaka from Greece, Kafta Kebab and Roast Lamb Shank from the Middle East, in their grab bag section, multi-regional food like Gyros and French Fries, as well as cold appetizers.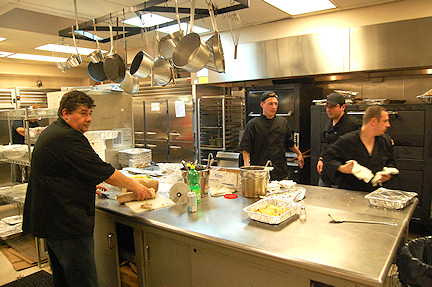 The staff was busy in the kitchen keeping up with the demand for food (Father Joe was a bit camera shy this year; he is standing behind the photographer). Of course, with all that food, you may want something to drink.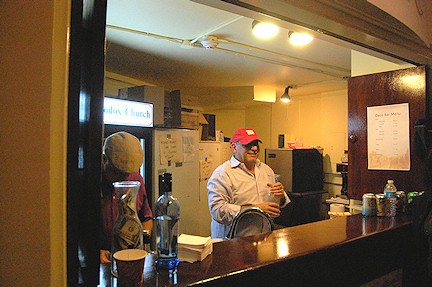 At their bar is a selection ranging from soda and bottled water at $1.50 and up to a full carafe of wine for $15. Also available are mixed drinks and beer. And what about dessert, you may ask. Well, as long as you're asking,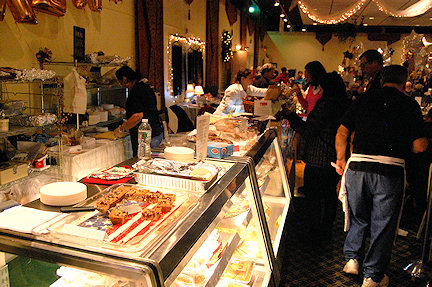 There is a bakery filled with delicious pastries from all over the region (although they have resisted the cultural temptation to serve Pumpkin Spice Baklava, a move that will cause many to breathe a sigh of relief). Once you have eaten, you can get down to shopping.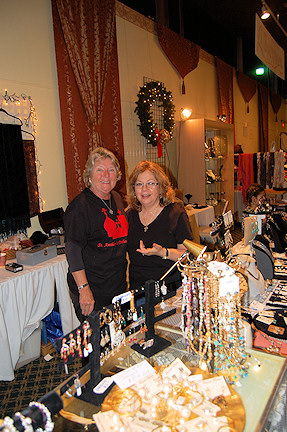 Pictured is their jewelry booth. But there are also gifts, clothing, and all sorts of Christmas decorations available.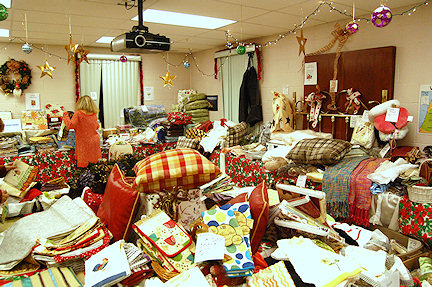 Take a walk past the food area, and you will be led to a room filled with linens and quilts for all tastes and purposes; don't forget to pay them a visit as well.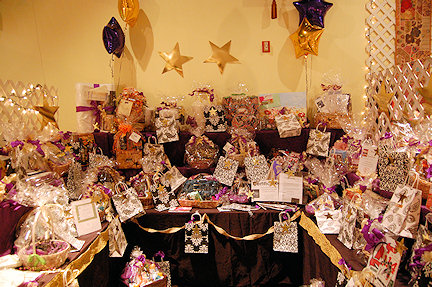 There are raffle as well, with a 50/50 as well as raffle baskets donated by many local businesses. And there is entertainment on the stage as well; you never know who might turn up for that.
And the money is going to many worthy causes. According to the church, this is how the money will be used:
Donated products/clothing for newborns/young children to Oasis NJ which provides support to poor women and children.
Created and donated School Kits for use by refugee children in war torn areas all over the world.
Created and donated Emergency Hygiene kits for use by Victims of Natural Disasters all over the world.
Supports Special Olympics Camps.
Supports Emmaus House, a Homeless Shelter in Harlem.
Supports St. John's House for the Homeless and those suffering with addiction in Brighton Beach, Brooklyn.
Feeds the hungry through the Bergen County Housing, Health and Human Services Center in Hackensack.
Clothes the homeless through Midnight Runs in Manhattan.
Supports the IOCC (International Orthodox Christian Charities) in its philanthropic endeavors and orphanages throughout the world.
And of course, some proceeds are used for the parish's day-to-day operations.
The many sponsors of this event included: This email address is being protected from spambots. You need JavaScript enabled to view it., Mediterranean Gourmet, Dinu's Painting, Cathy Banu Realty, Bogris Appraisal, Nick Poulos Restaurant Supply, Barett Funeral Home, Olive Garden, Pompton Queen Diner, Matthews Diner & Pancake House, The Hibernia Diner, Six Brothers Diner, Plaza 23 Diner, Athens Bakery, Daily Treat Restaurant, Tenafly Diner, Guenther Schaller of Westwood, Gotham City Diner II, Biagio's Ristorante (turn down the volume before clicking), Suburban Diner, Hios Auto Repair, Saddle Brook Diner, Chit Chat Diner, Vasili's Taverna, Sparta Taverna, Greek Village, Regency International, Avanti Towels of Secaucus, Better Homes and Plastics, River Edge Diner, the Tri-Valley Restaurant, The Gotham City I Diner, Nouris Bakery, Pascal Coffee Roasters, The Greek Village, Maywood Market, Bergen Wholesale Meats, Angelina's Pizza & Restaurant, and Hanover Manor.