As has happened for the previous 6 years, one of the largest, flashiest, and loudest fundraising events in the area took place on September 17, 2006: The 7th Annual Andiamo Benefit Motorcycle Run.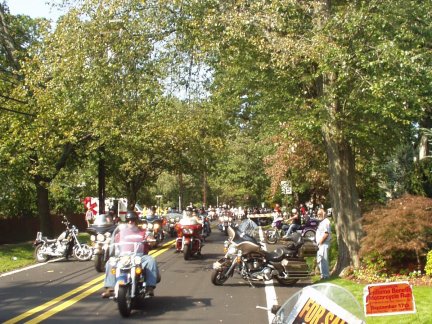 Registration started at 9:00 AM. As the crowds started to arrive, music (and PA service) was provided by Black Magic Disc Jockeys (201 568-7944). The Haworth Fire Department, down the block, had out their engines in a patriotic display. What was truly impressive was the sheer number of motorcycles lining the streets. Ceremonies started at 10:40 with a tribute to co-founder Mikey "O" (the late Michael O'Loughlin, who passed away less than a month before the run). We were assured that he had made a deathbed promise that, while he couldn't be there physically, he would take care of the weather. And take care, he did. It was an absolutely beautiful day, with the sun out and the temperature in the mid-70's. After a moment of silence and a brief prayer, there were thanks to all those who helped in the run. It was pointed out that, while most runs had 2-3 police motormen, the Andiamo run had 50-60, including help from the Port Authority Police, who tried to arrange for the run to cross the George Washington Bridge into New York. Alas, that was not to be, but the New York Yankees decided to sabotage the run by rescheduling a rained-out game to early that afternoon, which created too much traffic.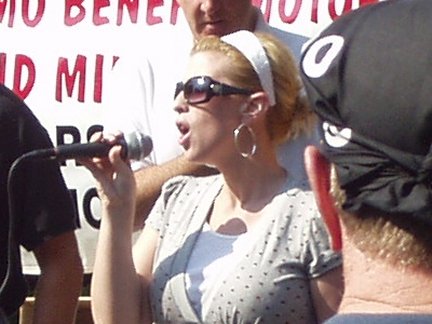 Bergen County Sheriff Leo McGuire gave a short speech, followed by the rules of the road, followed in turn by an absolutely beautiful rendition of the National Anthem by a singer only identified as Cindy (can anybody This email address is being protected from spambots. You need JavaScript enabled to view it. her last name? I taped it from the crowd, if she doesn't have a copy already). It was received by loud cheering by the audience. Another prayer, and they were ready to go.
Mikey "O"'s bike, driven by his good friend, Phil Lavigne, shared the lead for over 2300 bikers who showed up for the ride. As previously mentioned, they didn't make it across the George Washington Bridge (and some grumbled they also didn't make it past second gear, but that's the price of success), but they did make it to Exit 1 on the Palisades. The riders came back in high spirits, knowing that they raised a lot of money for good causes (we'll find out how much in about two weeks; donations are still coming in). Besides, there was a great party afterwards.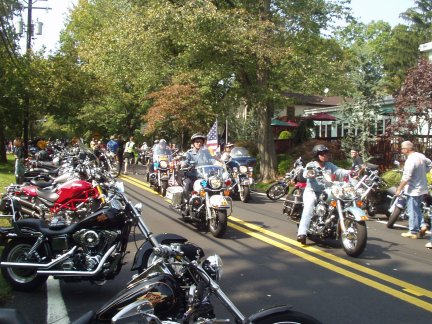 Proceeds will be distributed to the Colleen Giblin Foundation, the Quest Autism Foundation, the Mikey O Cancer Fund , Englewood Hospital, and the Haworth Ambulance Volunteer Corps.
For information on donating money, please see the Andiamo Motorcycle Run home page.